Course
Presented by Natalie R Rolle, MOT, OTR/L
Access Pass
Member Exclusive
Course Description
Sleep is important to health; we know that now without a doubt. We can't reap the full benefits of our good diet/exercise if we aren't sleeping well. This presentation is about the most up to date science on why sleep is important, costs of not getting enough or good quality sleep, our sleep systems and […]
Adult
OT
PT
SLP
Aging
Mental Health
Meet Your Presenter
Natalie specializes in behavioral sleep treatments with advanced training in Cognitive Behavioral Therapy for Insomnia (CBTI). Natalie is the lead OT for sleep services at The Center for Community Partnerships within the Occupational Therapy Department at Colorado State University and opened a fully functioning sleep clinic. She co-developed a CBTI for occupational therapy which is a two and a half-day training that is delivered to OTs nationwide. Also, Natalie provides consultation, supervises OTs, and exposes fieldwork students to sleep practice. Recently, she was asked to be part of a CBTI Jedi-masters group, started by Michael Perlis, which is an expert-level clinician group. Overall, Natalie's goal is to continue to speak about the importance of sleep and to improve sleep quality and daytime functioning for her clients through behavioral interventions.
Accreditation
This program is offered for .1 ASHA CEUs, (Intermediate Level; Professional Area).
Therapy Insights is an AOTA Approved Provider of professional development. Course approval ID #04163. This webinar is offered at 1 CEU.
This course has been Approved by CERS, an Approval Agency for the California Board of Physical Therapy. CERS Course Approval #: 22-50839-1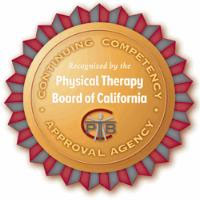 Course Details
Learning Objectives
Upon completion of this course, participants will be able to:
Describe the importance of understanding the physiology of sleep in order to address sleep with clients.
Describe why sleep is important to overall health and why it is considered the 3rd pillar of health.
Describe the general role of OT/PT/SLP in treating sleep challenges.
Define the homeostatic sleep drive system.
Define chronotype as it relates to sleep behavior.
Time-ordered Agenda
0:00 - Why sleep is important, benefits/costs of not getting it and new research from American Academy of Sleep Medicine (AASM)
0:10 - Physiology of sleep with a detailed breakdown of the circadian/homeostatic sleep drive systems
0:35 - The most effective ways to improve sleep and education regarding why each works
0:50 - General role of OT/PT/SLP in treatment and how to get more education if interested in learning more
0:55 - Q/A
1:00 - End course + quiz
Instructional Level
Intermediate
Information is geared to practitioners with a general working knowledge of current practice trends and literature related to the subject matter. Focus is on increasing understanding and competent application of the subject matter.
Target Audience
Rehabilitation professionals, including occupational therapists, occupational therapy assistants, physical therapists, physical therapy assistants, and speech language pathologists who work with adult or pediatric clients.
Live Course Information
This course will be presented on the Zoom platform. High-speed internet connection is required.
Recorded Course Information
This course will be available for ASHA CEUs until March 15, 2027. This course will be available for AOTA CEUs until March 15, 2027. This course will be available for PT CEUs until March 15, 2023.
Instructor Financial Disclosures
Presenter is being paid by Therapy Insights to prepare and present this course.
Presenter is a salaried faculty member of Colorado State University.
Presenter co-created a CBTI course through Colorado State University from which she benefits financially.
Instructor Non-financial Disclosures
Certificates of Completion
Once the exam is completed and you have provided feedback about the course, you will receive an emailed certificate of completion with course title, course instructor name/title, learning objectives, your name, your license number (if desired), and a confirmation from the CE Task Force director confirming completion of course. If your state licensing board requires specific records of course participation (all licensing boards are different), please email us and we will provide the documentation.
Instructional Methodology
Lecture
Refunds & Cancellation
Please see our full refund and cancellation policies here.