Ever-growing library

for speech, occupational, and physical therapists.
Our evidence-based printable resources, CEUs, and article snapshots will elevate your clinical library and help you save time and change lives.
Create your custom Therapy Insights Access Pass
For Med SLPs, Pediatric SLPs, OTs, OTAs, PTs and PTAs.
Get started today
Build a more efficient and impactful practice.
Productivity goals, high caseload, outdated materials and lack of time to prepare can compromise quality patient care.
Are you lacking fresh, modern, evidence-based therapy materials and resources?
Do you have access to peer-reviewed journals? Are you falling behind on the latest research?
Are your drawers and shelves stuffed with photocopies of photocopies of resources from the 1990s (or any other decade not in the 21st century?)
Are you prepared to meet the needs of a diverse caseload on any given day?
Do you find yourself compromising session preparation in exchange for meeting productivity?
Do you work off the clock cobbling together therapy materials and handouts using whatever clip art you can find on the internet?
Beautiful, fresh, and ever-growing library of resources.
Our members have access to over 1300 printable resources with new resources added monthly. Our continuing education courses are approved by ASHA, AOTA, and the CA Board of PT.
Even more resources to explore!
Trusted by over 10,000 professionals.
"Having the resources from the Access Pass, I am able to quickly pull them and readily use them in my sessions with patients back to back every half hour without having to do much personalization because they're already super functional."
Join us today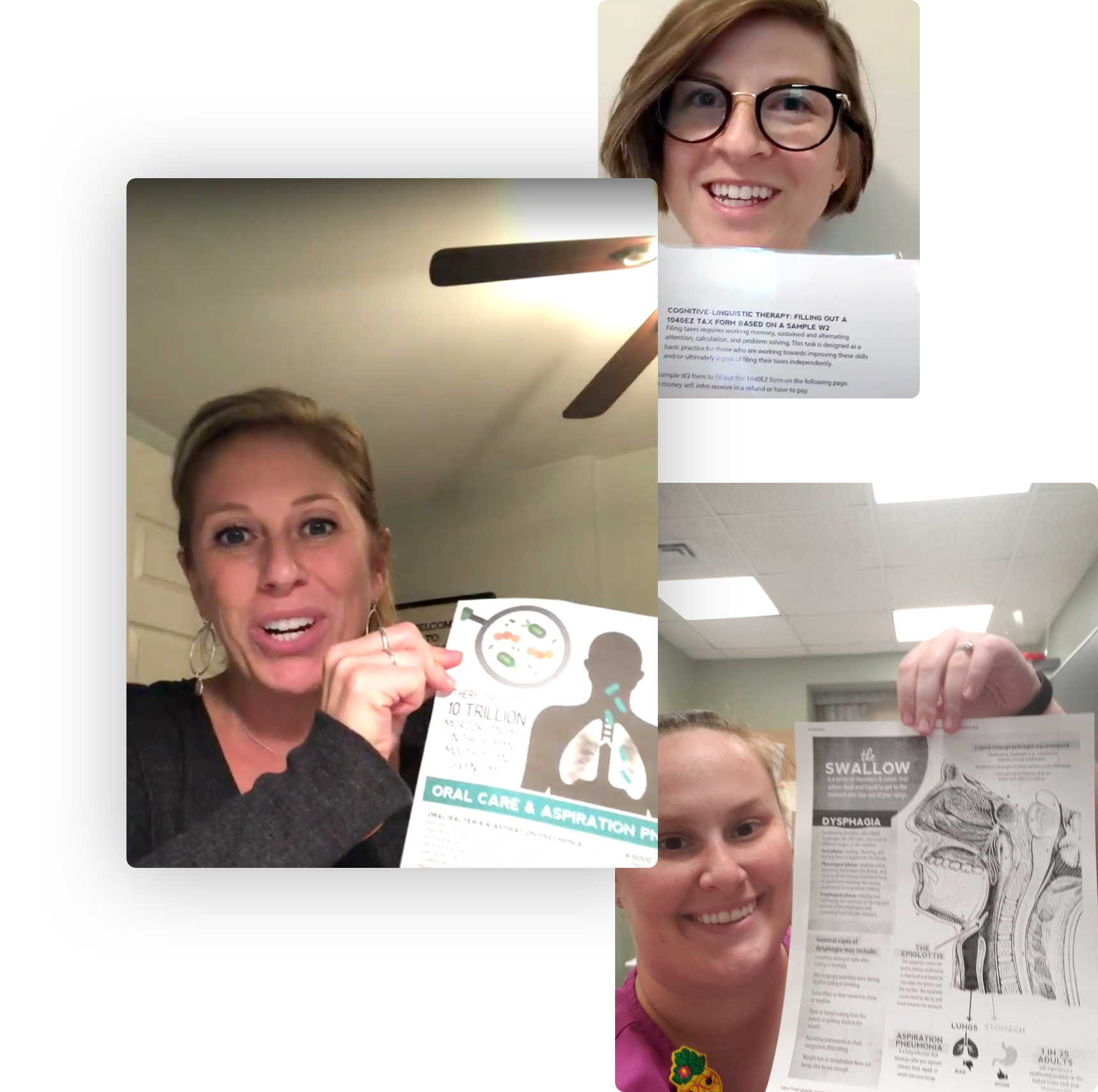 Ready to
empower

your patients and

get results

?

Getting started is fast and easy. Change everything today.
1
Join
Customize your plan in minutes and become a member today.
2
Explore
Spend a few minutes discovering resources based on diagnosis.
3
Elevate
Bring fresh materials and insights to your practice daily.
Success!
Awesome therapy sessions packed with resources and results.
Create your membership
Provide better patient care with printable handouts, therapy materials, and eval tools.
Be informed with research summaries.
Boost your knowledge, skills, and confidence with CEUs taught by leading experts.
Go to work prepared, competent, and organized.
Relax. No more cobbling together resources.
Are you an organization?
Save time. Save money.
Empower your therapists with a time-saving suite of clinical resources.
Learn more