Therapy Insights 2020 Essay Contest Winners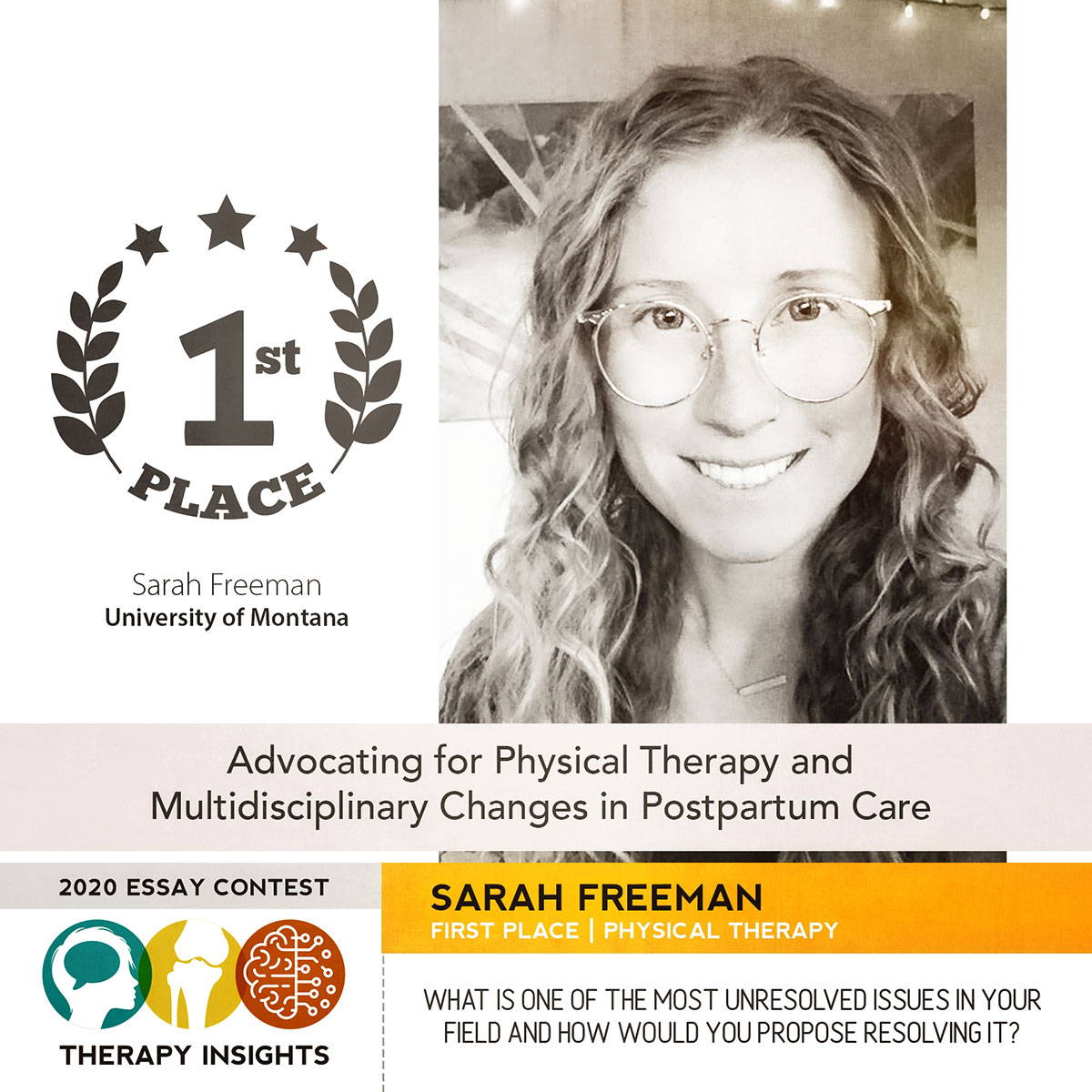 By Sarah Freeman of the University of Montana

Why we chose this essay:

Rehabilitation therapy is a drug-free staple of the healthcare system. It is a persistent driver of slow and steady change that ultimately heals in powerful ways. Part of the reason that therapy is so effective is that it requires human effort, both on the side of the clinician and the patient. Unlike taking a pharmaceutical pill (which most certainly also holds an important space in the healthcare system), therapy is a physical and emotional investment in oneself, thus putting the power of long-term recovery or symptom management directly into the hands of the patient rather than entirely in the healthcare system.

Very often, rehabilitation therapy is seen as a wonderful option for those on the road to recovery. While there is nothing inherently flawed in this perspective, it is also frequently argued that rehabilitation therapy is more effective in preventative care scenarios. For example, it's better to train body mechanics that help avoid injuries than it is to train exercises to help with recovery from injuries. Or take the case of head and neck cancer; research continues to support that many patients benefit from proactive swallow therapy prior to radiation treatments, but far more often, this therapy is recommended after radiation has burned and hardened the swallow musculature.

We believe that clinicians who step into this field empowered to be instigators of change are the ones who are going to push us all forward. Postpartum incontinence is one such area in which therapists can begin to advocate for the powerful role that rehabilitation clinicians play in interdisciplinary care, both proactively and reactively. We appreciate the writer's visionary perspective and believe this type of thinking is what can lead to resolving some of our greatest challenges in our field.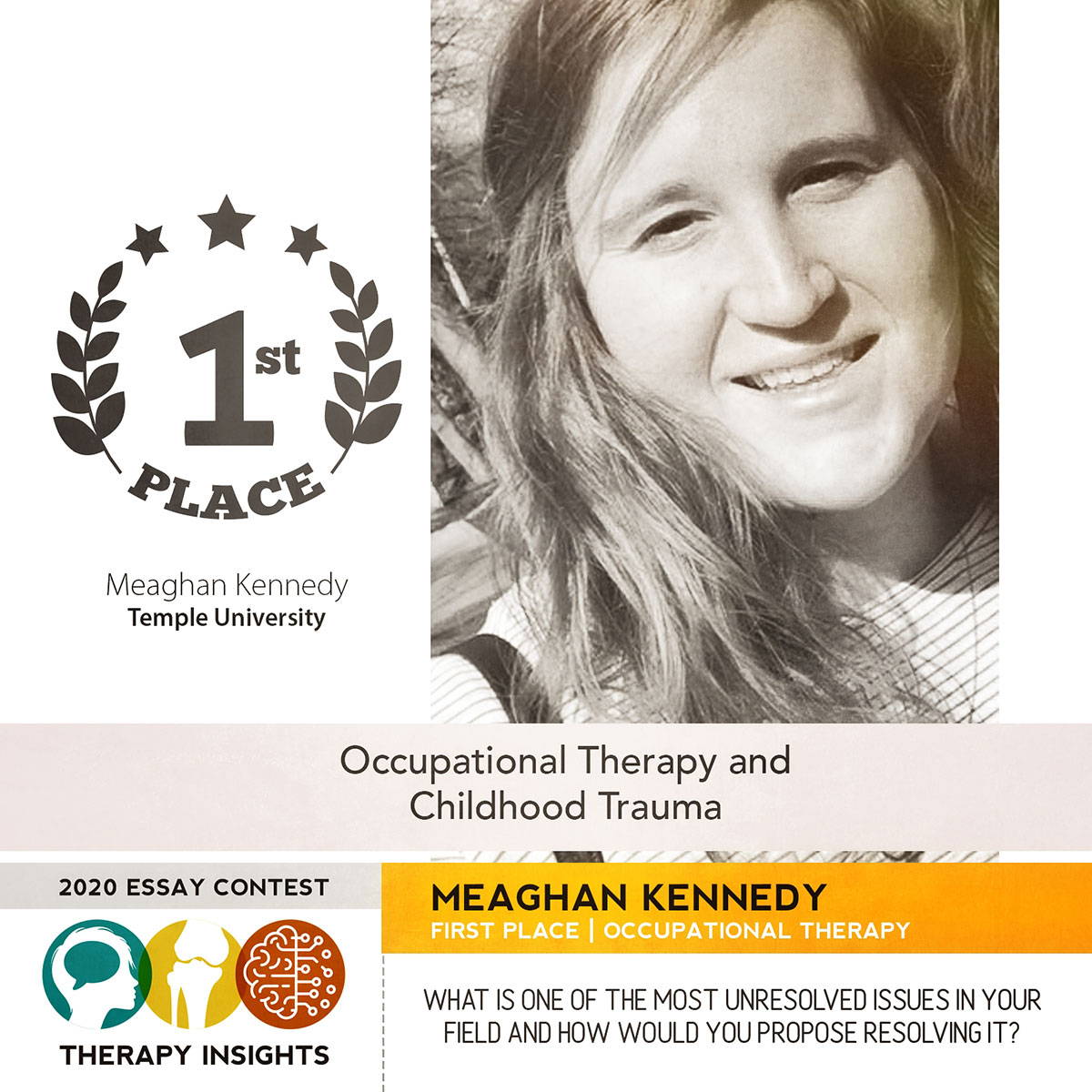 By Meaghan Kennedy of Temple University

Why we chose this essay:

Together, the band of rehabilitation therapy stands strong. It is clear to many that rehabilitative care is a powerful component of the healthcare system. What is odd is that individually, it starts to get murky for people when they hear the term "occupational therapist."

We believe there is much work to be done as a collective interdisciplinary trio to educate and inform the public about our unique skillsets. Together, OT/PT/SLP offer a tremendous bandwidth of support for patients. Patients also have a right to know that they can lean on the support of one individual rehabilitation specialist, depending on their needs. Until we as rehabilitation therapists do a better job of owning and communicating our worth, collectively and as individual professions, patients will continue to present with confusion when we walk into the room.

We appreciate how the writer offers a unique perspective on the role that occupational therapists can play in the lives of people who have survived traumatic events.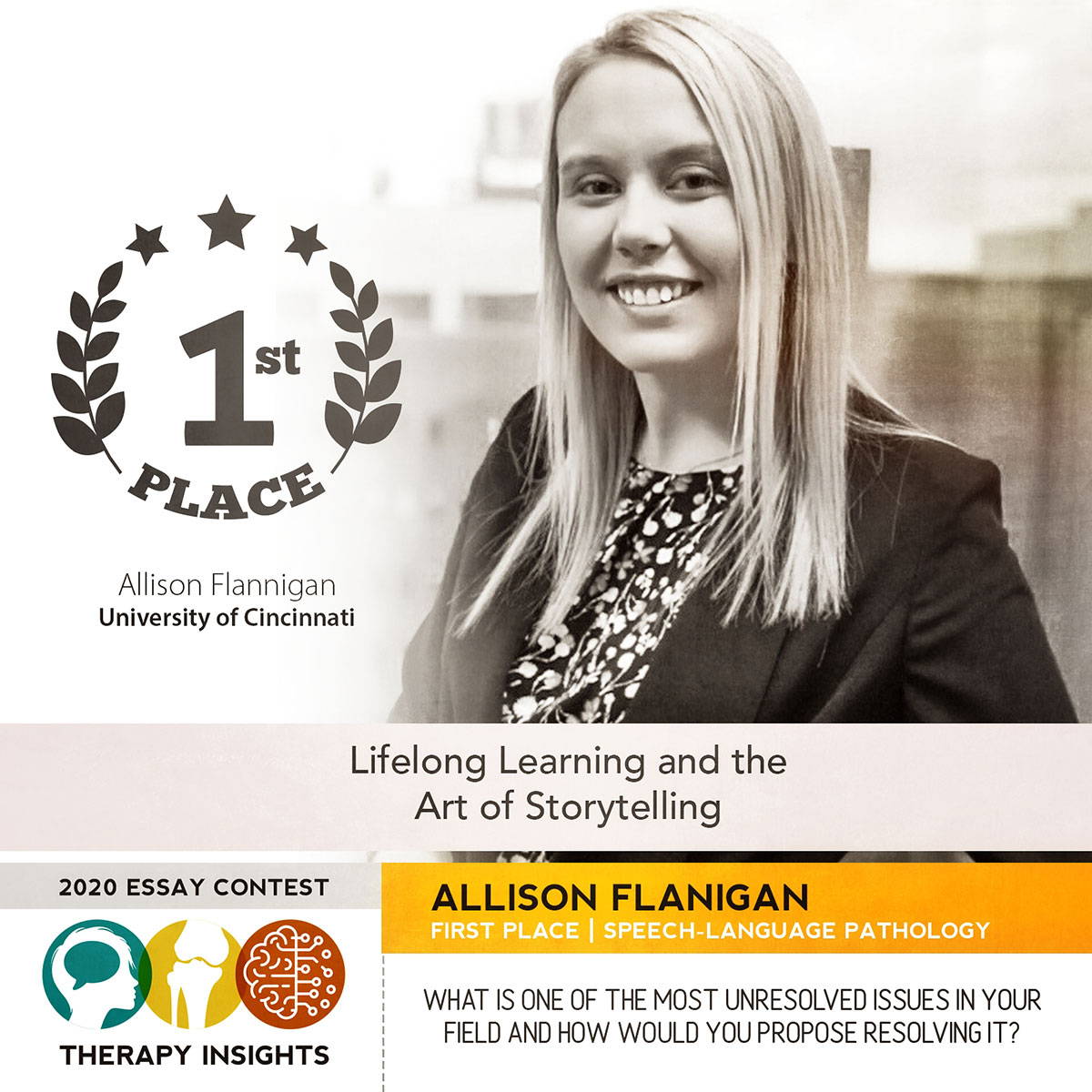 By Allison Flannigan of the University of Cincinnati

Why we chose this essay:

Evidence-based practice (EBP) is a beloved buzz word in the field of speech-language pathology. The word itself is at once both uniting and divisive. Uniting because it brings us together under the shared value of bringing high quality care to our patients/clients; divisive because it is often used as a weapon to tear people down who don't share our perspective or experience.

The field of speech-language pathology, like all human-centered fields, is both an art and a science. Black and white solutions do not exist. Thus, our field is one of complex conversations and multi-colored solutions. This requires holding space for uncertainty, paradox, and multi-layered stories. It requires lifelong learning that gives ourselves and others the space to transform over the lifetime of our clinical practice, without shame.

We appreciate how the writer of this essay invites all of us, including our teaching and learning institutions, to embrace a lifelong model of learning and sharing knowledge that relies more on living in the grey zone than it does in perpetuating a false reality of black/white, right/wrong, proven/unproven. It's these conversations that will shift the culture of this field and ultimately
---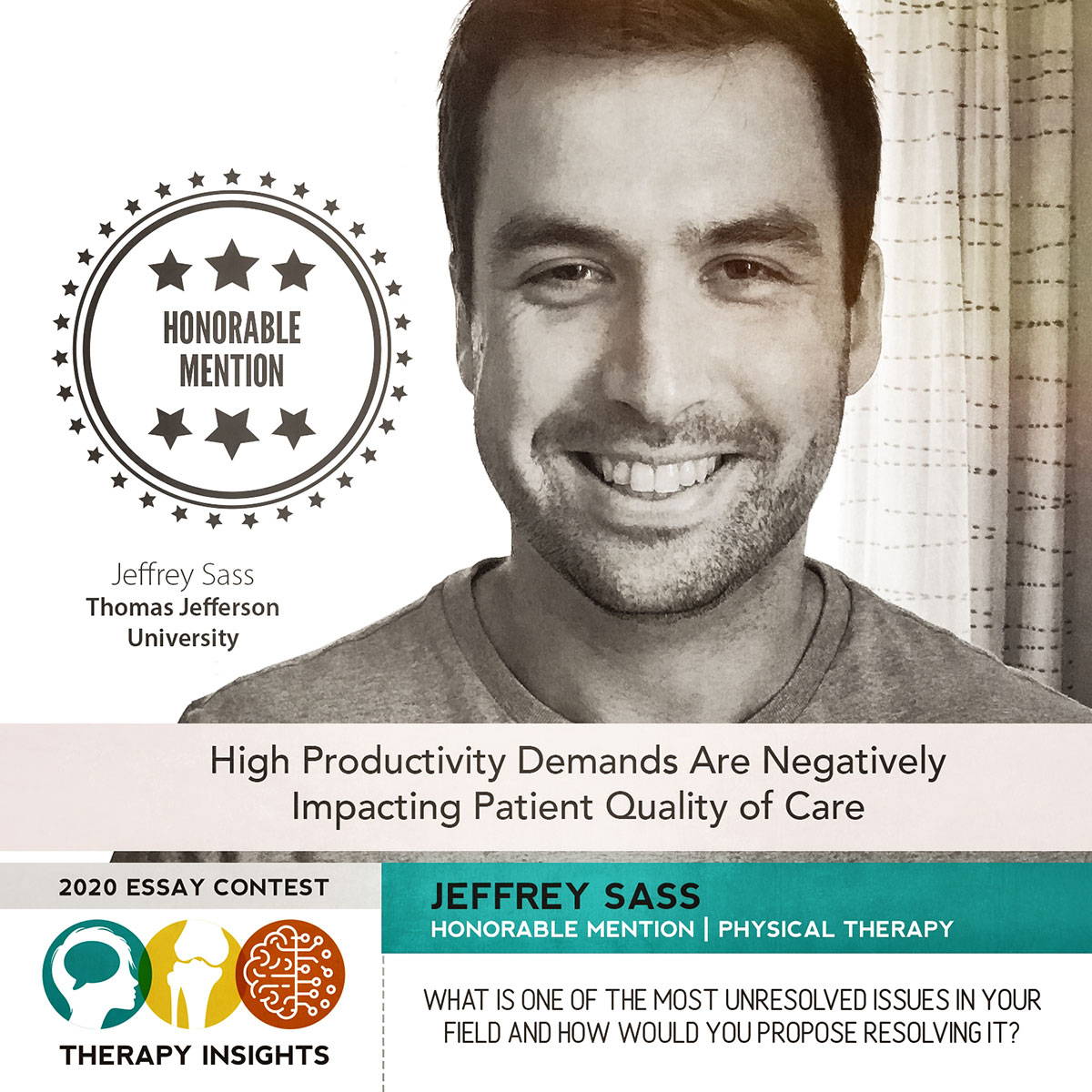 High Productivity Demands Are Negatively Impacting Patient Quality of Care
By Jeffrey Sass of Thomas Jefferson University
Productivity requirements continue to be a problem, presenting a myriad of ethical dilemmas that lead to brain drain in the settings we need brain power most. More and more clinicians are opting to leave high pressure productivity settings. As clinicians strengthen advocacy for their own skills, expertise, and value, the opportunities for clinicians will widen, and the productivity challenge may resolve itself as the market expands and therapists are able to push back on unethical corporate policies that have come into practice based solely on profitability at all ethical and human costs.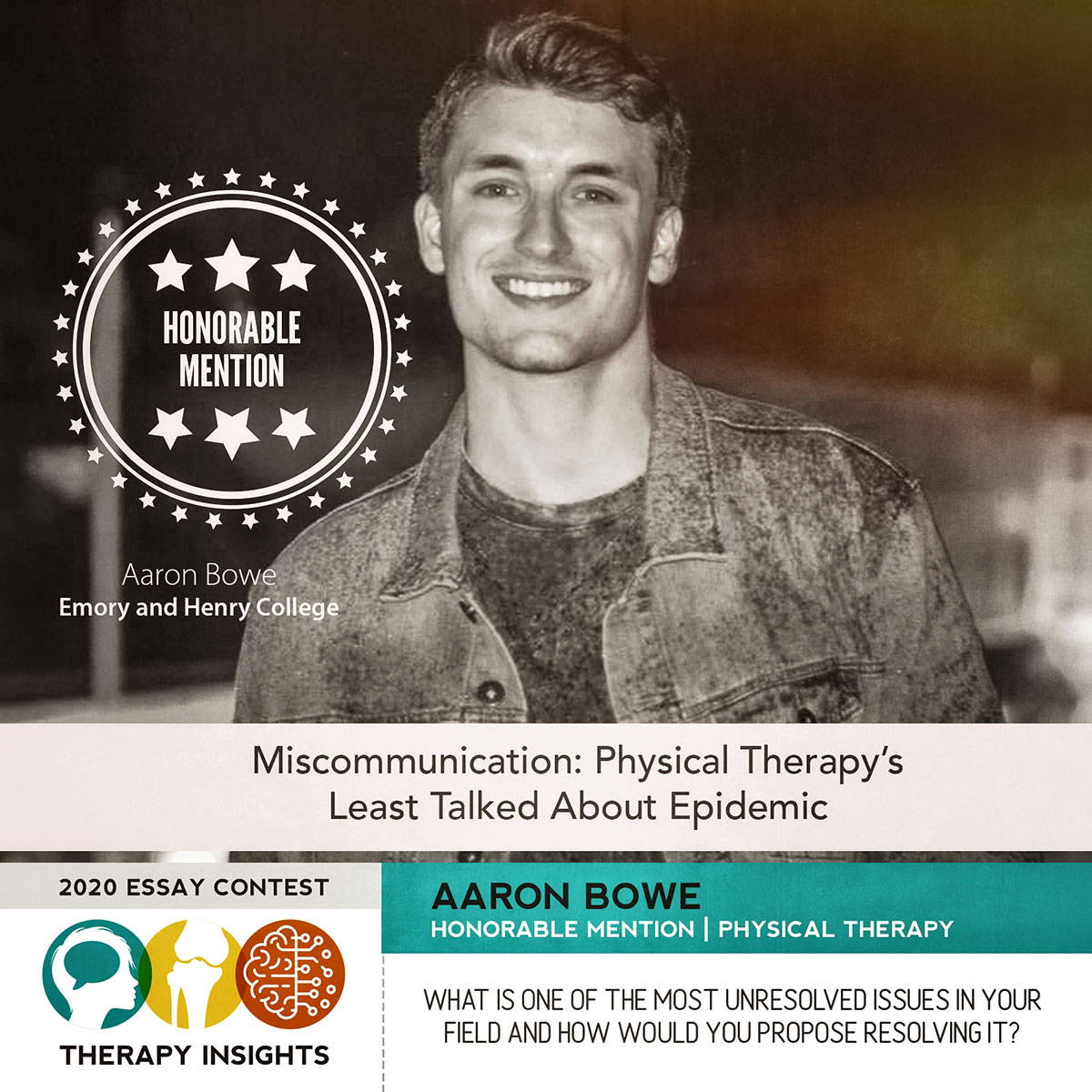 Miscommunication: Physical Therapy's Least Talked About Epidemic
By Aaron Bowe of Emory and Henry College
Interdisciplinary collaboration remains a largely under-addressed focus of medical and graduate school training programs. Particularly in the heavily related fields of speech, occupational, and physical therapy, these programs are often housed in different colleges within university systems with separate classes that do not frequently interact. We then face the challenges of being thrown into a healthcare system that relies heavily on interdisciplinary collaboration without ever having these conversations during key training periods.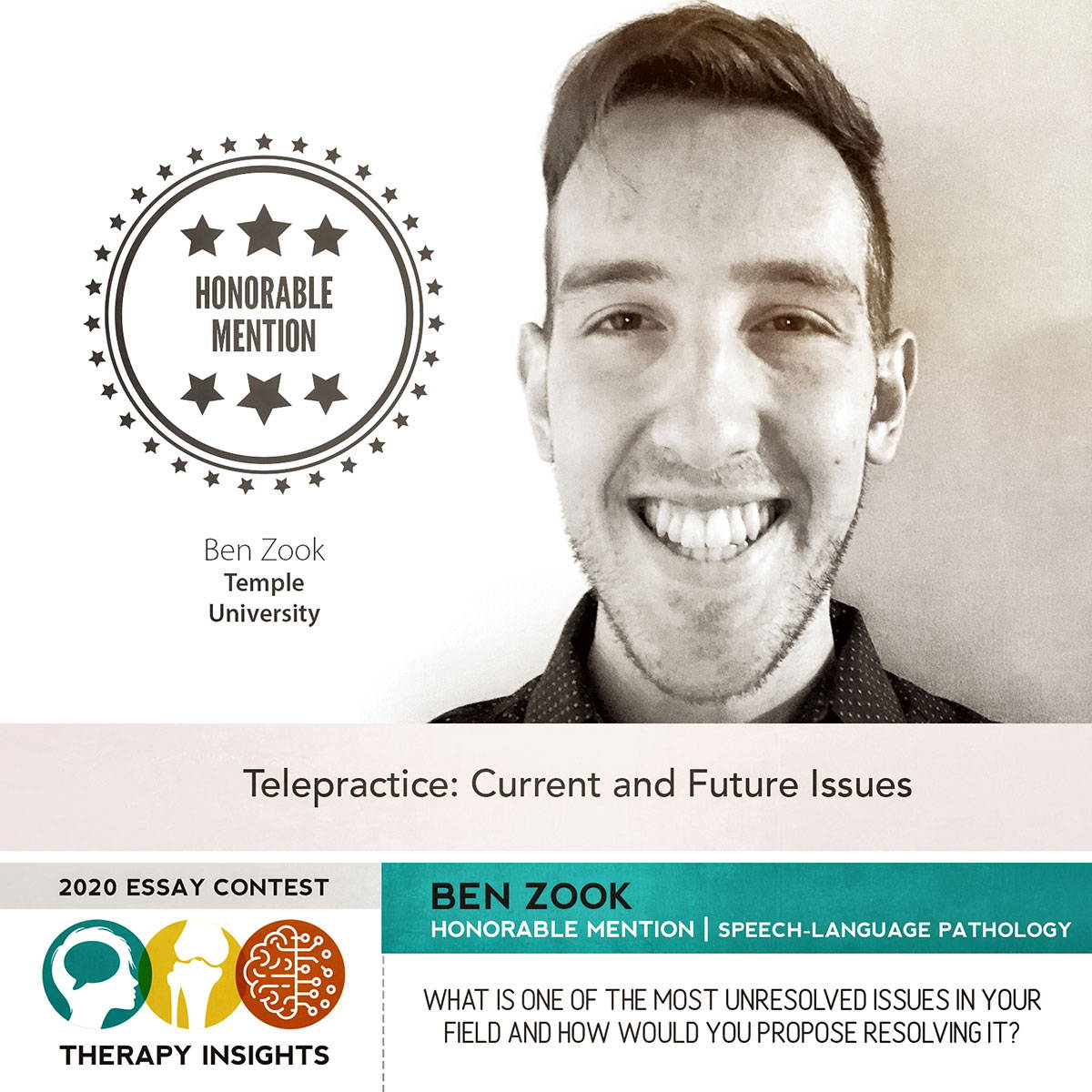 Telepractice: Current and Future Issues
By Ben Zook of Temple University
Lifelong learning will undoubtedly play an important role as delivery service models shift in the coming decade. Teletherapy has been launched into the spotlight during the crisis period of COVID-19. The silver lining of this transition is that many laws, rules, and regulations that choked teletherapy in the grip of red tape have been resolved and teletherapy promises to be able to move forward as a more functional platform for a wide variety of settings, providing services to those who may otherwise not be able to benefit. The writer brings up several important questions about how we are going to ethically implement this kind of therapy going forward.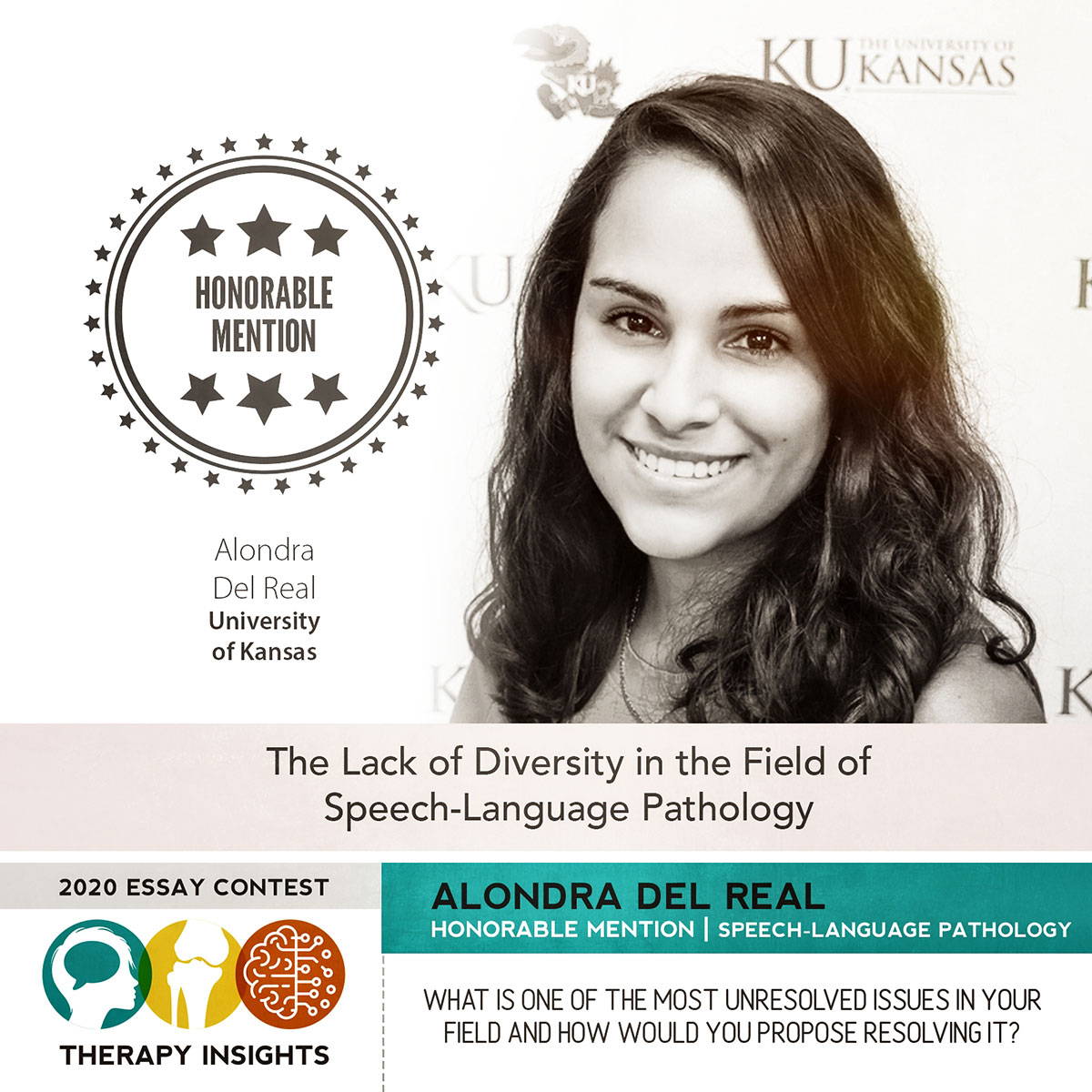 The Lack of Diversity in the Field of Speech-Language Pathology
By Alonda Del Real of the University of Kansas
Lifelong learning and storytelling also play a vital role in the ongoing problem of addressing the lack of diversity in the field of speech-language pathology. Being open to diverse perspectives, opinions, and life experiences is paramount to shifting the monolithic culture of this field. Until we are able to live within the space that multiple truths can exist at the same time, we will continue to limit our field from expanding into new territory.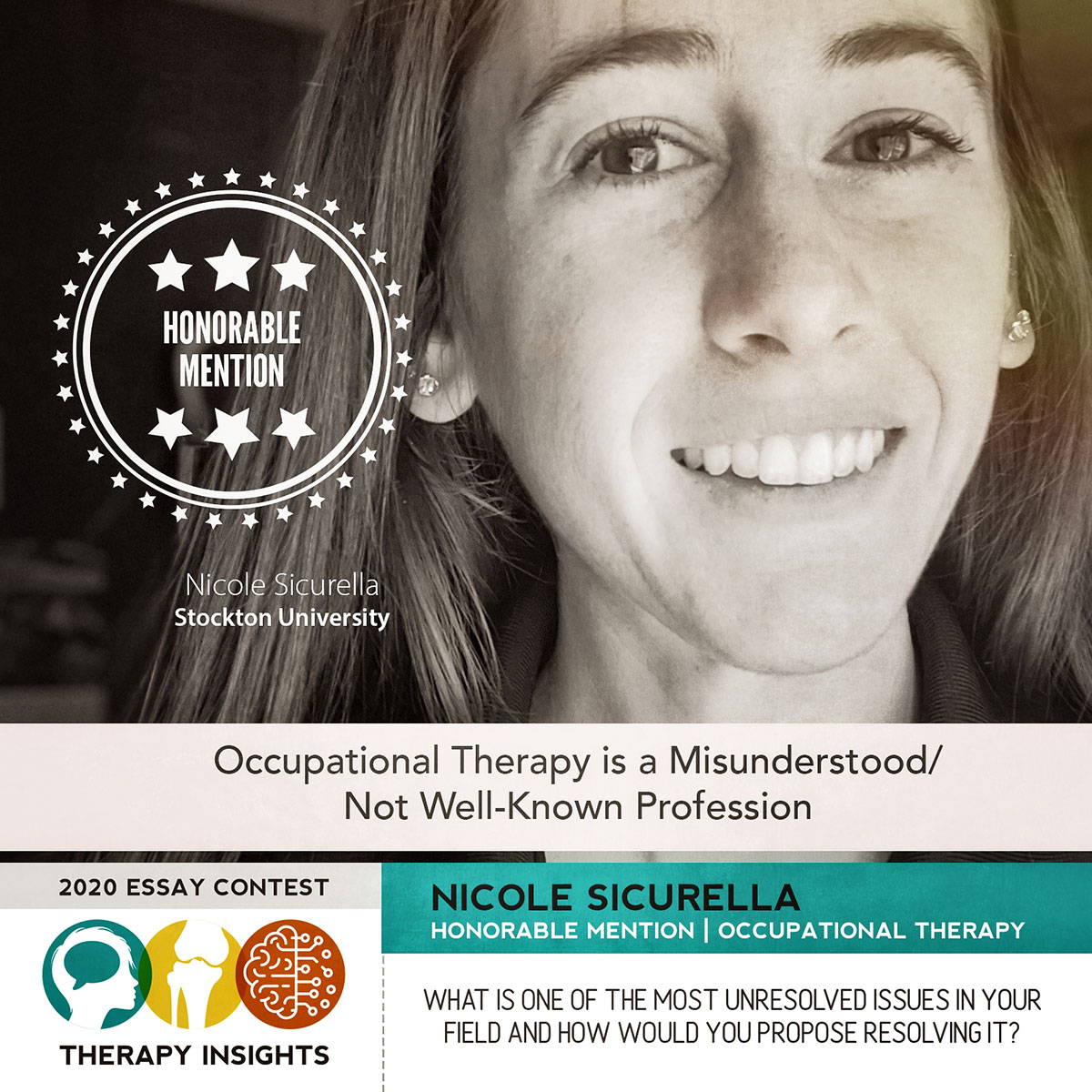 Occupational Therapy is a Misunderstood / Not Well-Known Profession
By Nicole Sicurella of Stockton University
This essay also touches on the topic written in the runner-up essay. Trauma is indeed not the only place where occupational therapists can serve to change lives. There are many settings where the unique role of the OT can and should settle into a more acknowledged and valued space.