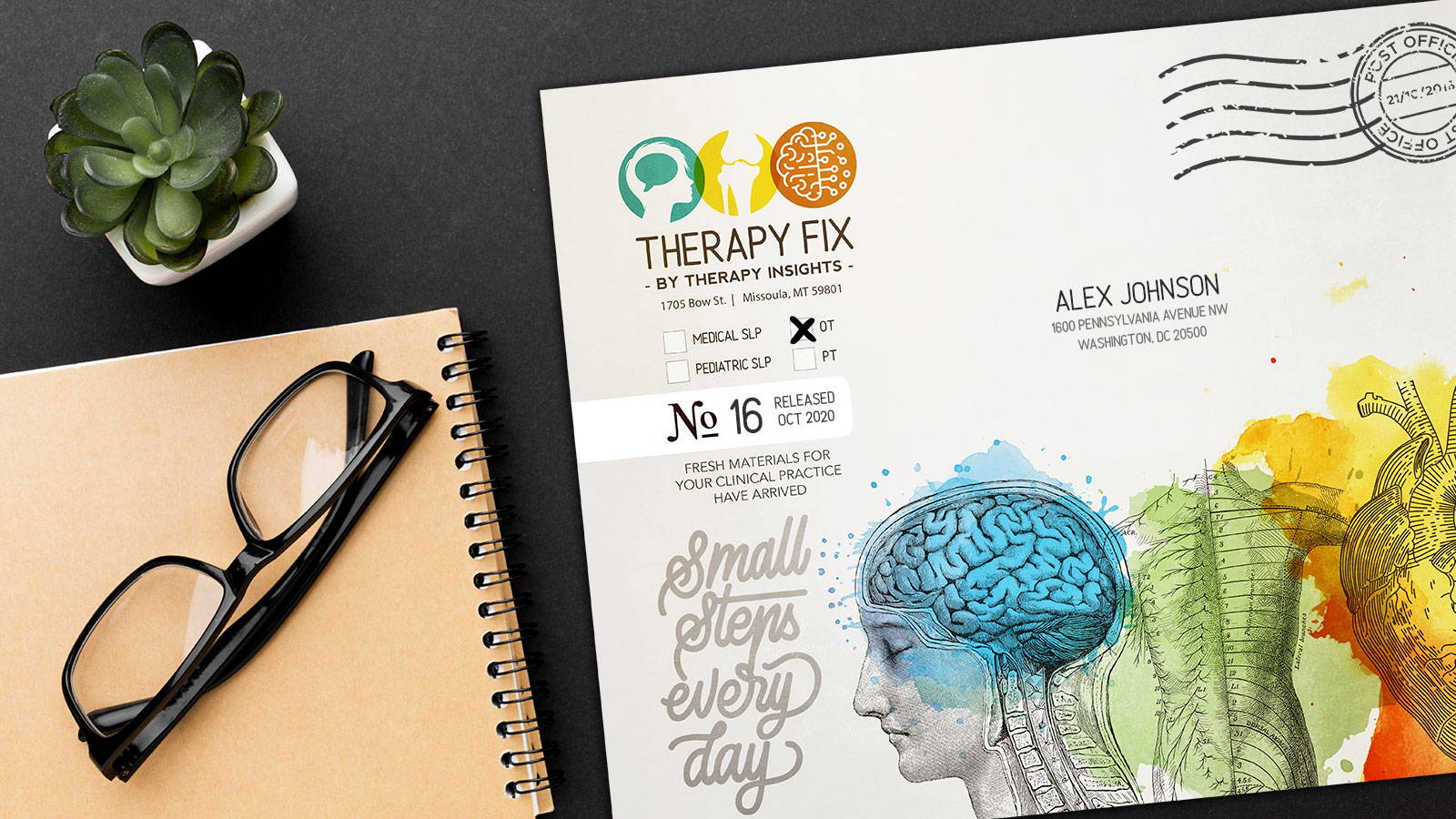 Therapy Fix is a fresh dose of hard copy printed clinical materials delivered monthly for SLPs, OTs, COTAs, PTs, and PTAs.
Get instant access to expertly crafted education handouts, functional therapy materials, and the latest research from leading experts.
Each month, receive an envelope in the mail with a full stack of fresh, captivating, evidence-based materials that you can take to the clinic with you and immediately use in your practice. We believe that people in therapy are fighters and survivors, and that they deserve the best materials possible to accompany them along their journey. We understand that clinicians working in today's healthcare and education settings have extremely limited time to research, prepare, and develop these materials. That's why we created Therapy Fix. Receive hard copies of new content + fun bonuses like 11x17 posters for your clinic walls, stickers, laminated clinical anatomy cards, and more. All content is new; nothing currently in the Therapy Insights library will ever be included in a future Therapy Fix. As a subscriber, you have the chance to vote on which content gets produced each month. You also receive a code to download and save the digital files to use for the lifetime of your clinical practice.
$35/month     |     $385/year
---
---
---

Beautiful, functional, makes my life easier
I've been getting Therapy Fix since January, and I love it! I'm a huge proponent of functional cognitive and linguistic tasks, so I really appreciate materials that are more than a worksheet. I also appreciate thorough, well-researched handouts about different issues pertaining to our field (dysphagia after damage to recurrent laryngeal nerve, for example) which can be used for pt or MD education. Patients seem to respond well to information presented clearly in a visually pleasing format!
—Mel Graber

AMAZING
I work with the TBI/CVA population and these materials are AMAZING both as therapy materials and informational handouts for patients and family. I've hung a lot of the laminated references in my office and use them daily!
—Laura Shaw

1000/10 would recommend!
I began using my therapy fix materials almost daily. My WALC books seem to be gathering dust! Therapy fix has beautifully designed and updated materials with current, up-to-date information gathered from within our field. It's a great way to keep up with the most recent research in a more passive way. I love printing the pages and adding them to my patient's therapy books, providing them as activities during therapeutic tasks, and showing them off to the SLP's that have been helping me at my building.
—Taylor Hahn
---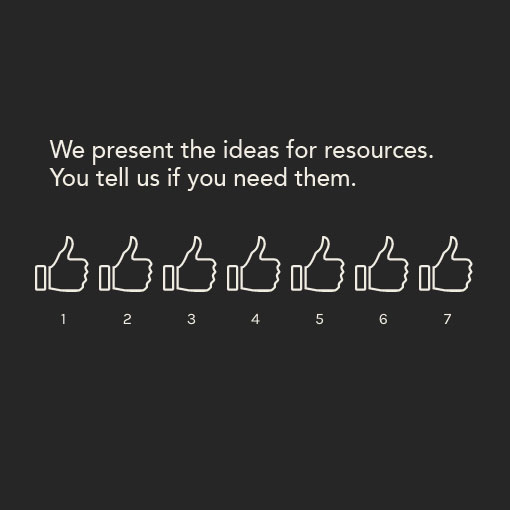 What should we create next? You get to decide!
Every month, we send you a survey with some ideas. You get to rate each idea based on what you need right now for your clinical practice. The top ideas then move into the production line!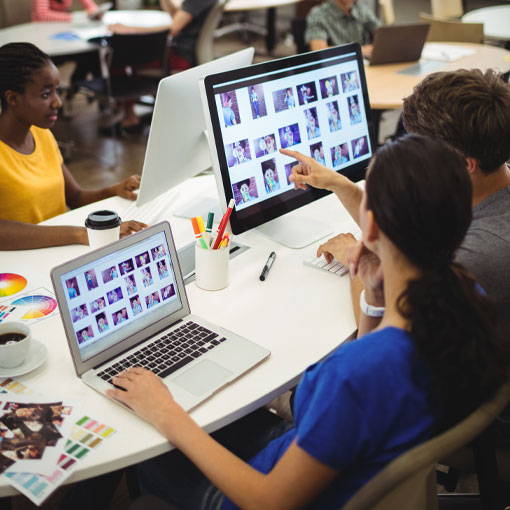 Our team of active clinicians crafts beautiful, evidence-based content.
We research, write, design, and release new products into our growing library every single month. Our content development team is made up of PTs, PTAs, OTs, COTAs, and SLPs, so we get it.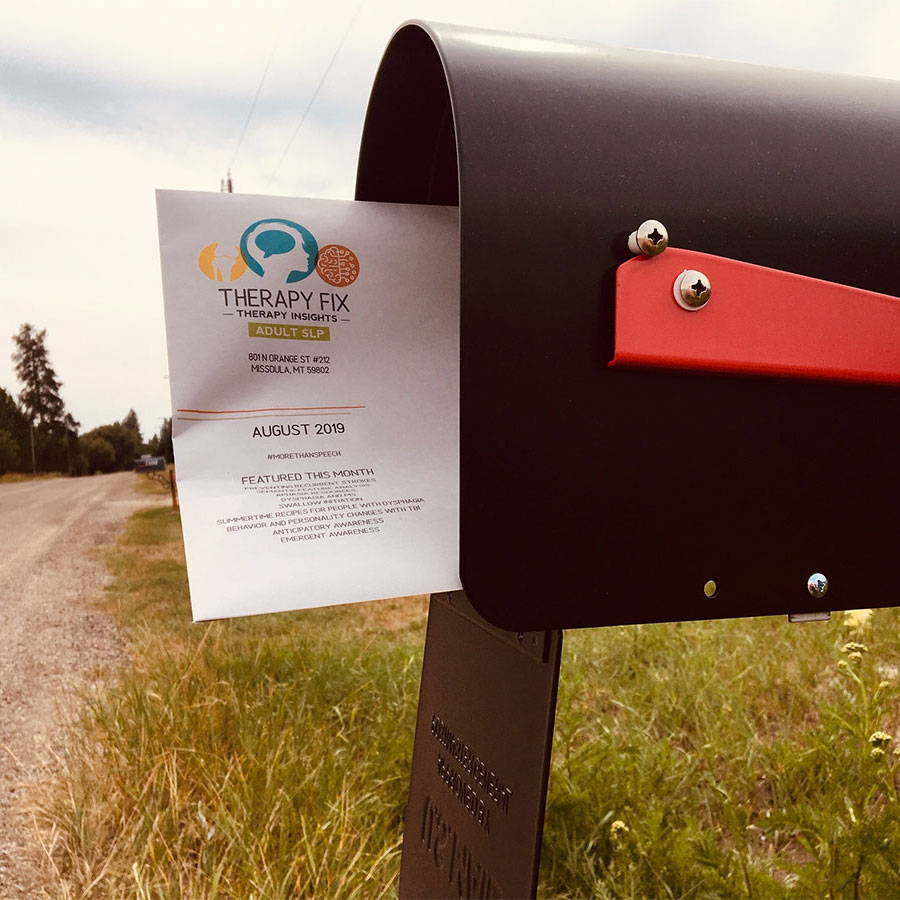 We ship a fresh copy to you.
As a Therapy Fix subscriber, you get print and digital access to our new releases. Download PDFs and save and print for the lifetime of your clinical practice. Save time so you can focus on what you do best- changing lives!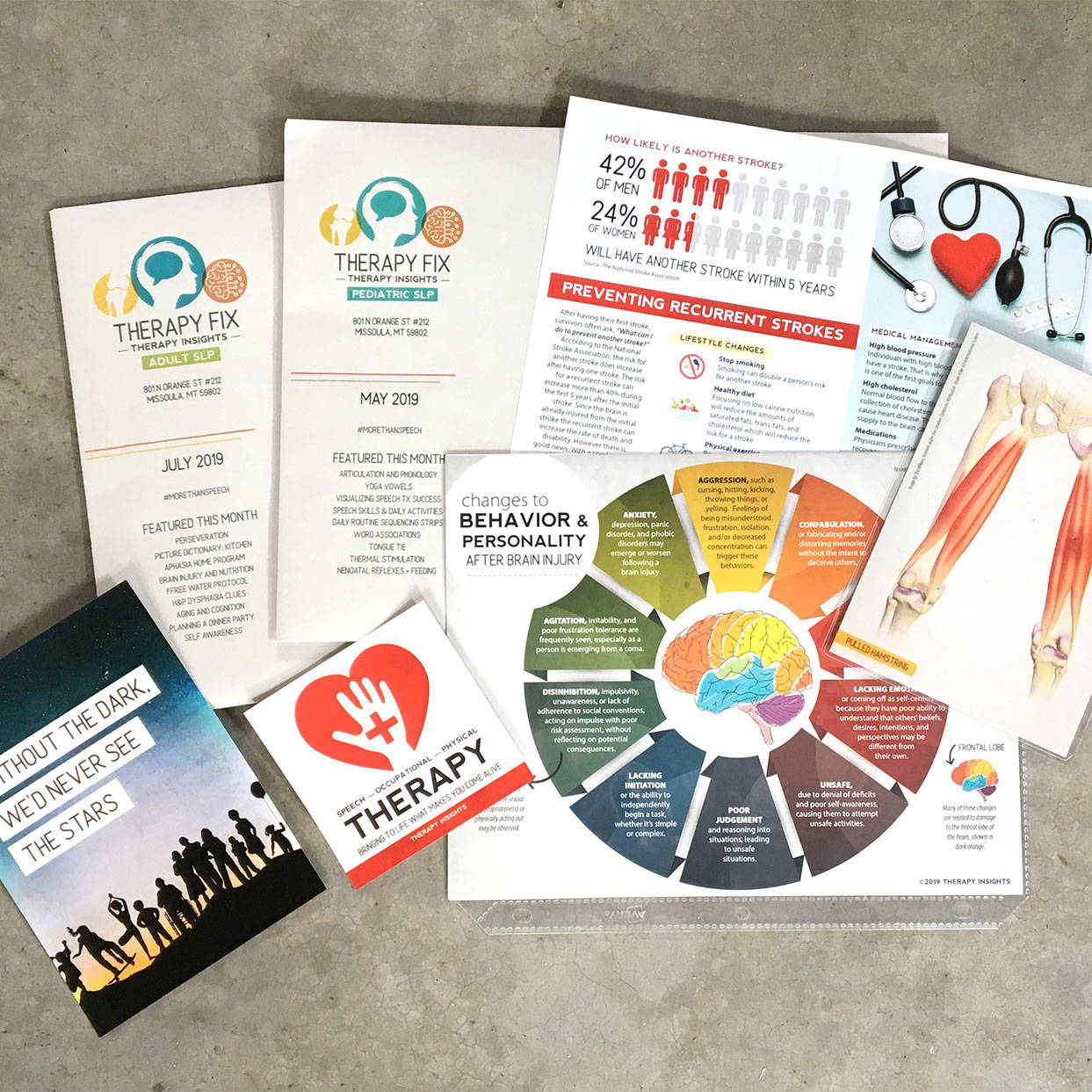 Watch your clinical library grow month by month.
Before long, you'll quickly develop a strong clinical resource library packed with handouts, anatomy cards, posters, research summaries, quick eval tools, therapy interventions, and so much more!
---
What is the cancelation policy?
Any subscription can be canceled at any time for any reason.
Subscriptions must be canceled before the recurring charge.
What is the refund policy?
We do not provide refunds on subscription products. Starting with a monthly subscription is a great way to see if this product is a good fit for you, and you can cancel your monthly subscription any time.

How long do I have access to the PDFs?
Once you download a digital file with your credits, it is yours to save, print, and use for the lifetime of your clinical practice. We recommend backing up your files in a safe space.


---

Also consider: The Access Pass
Want to be able to choose which content you download each month? Want access to courses and the full library of Article Snapshots?
The Access Pass is the all digital pass to the comprehensive Therapy Insights library, including digital downloads, courses, and Article Snapshots.
---
Access Pass
Your account is credited with $50 of store credit that you can use in the following ways:


$10 = digital download
$20 = color hard copies delivered
$20 = pediatric SLP book+activities pack delivered

Use the credits to download digital resources that you can save and use for the lifetime of your clinical practice
Choose from any content in the entire Therapy Insights library (regardless of discipline)
Access to one new live/recorded course each month
Access to the entire library of Article Snapshots (one page summaries of recently published research)
Therapy Fix
Full color hard copies of 5 new resources each month
2 printed Article Snapshots (one page summaries of recently published research)
11x17 color poster
Extra bonuses like laminated 5x7 clinical anatomy cards, stickers, and more
Download code to access all of the PDFs that you can save and use for the lifetime of your clinical practice
Curated pre-selected set of new content
Nothing currently in the library will be included in a future Therapy Fix