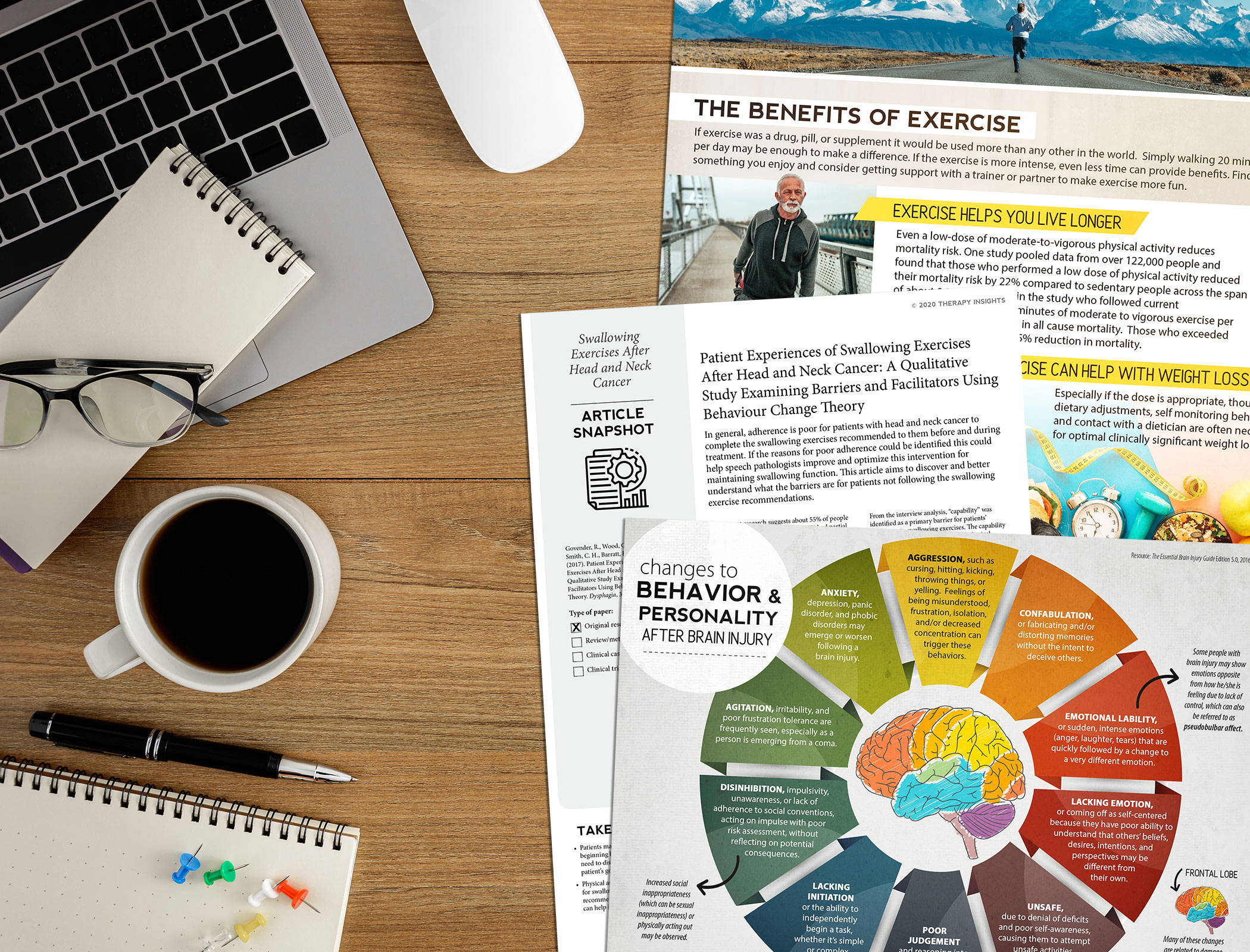 The Access Pass is the most powerful clinical tool for SLPs, OTs, COTAs, PTs and PTAs.
Get instant access to expertly crafted education handouts, functional therapy materials, and the latest research from leading experts.
As a clinician, you spend the majority of your time connecting with your patients. It's in this connection that beautiful things happen. We know that in the current state of healthcare and education settings, you simply do not have the luxury of time to research and create therapy materials or spend hours curating the latest research. That's why we created the Access Pass. Our goal? To help you save time and change lives by giving you everything you need at your fingertips.
Built by clinicians, for clinicians, The Access Pass offers over 700 digital downloads (with 25 new downloads added monthly), a searchable library of hundreds of article snapshots (one page summaries of recently published research articles), and new live CEUs added monthly. We invite you to join our community and get instant access to beautiful patient education handouts and therapy materials, as well as the most recent research from leading experts in the field.
$25/month     |     $270/year
---
---
Choose from over 700 digital downloads from our resource library.
25 new digital downloads are added to the library each month.
Once you download a material, it's yours to save, print, and share with your clients and their families for the lifetime of your clinical practice.
All resources are created by clinicians for clinicians and cite the most recent body of evidence.
We value beautiful design and language that is accessible to patients and their families.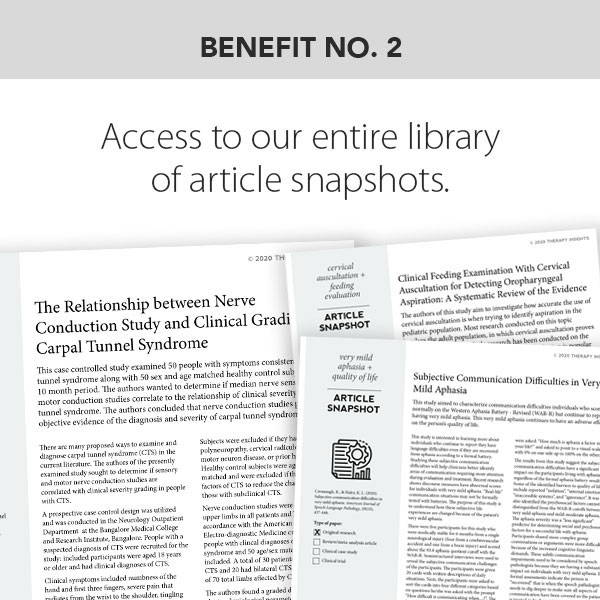 ---
These one page summaries of recently published research articles efficiently allow you to maximize your time. We summarize the studies for you.
Each Article Snapshot includes Clinical Takeaways that you can apply immediately to your clinical practice.
We hand-select articles that discuss topics that are voted on by subscribers.
---
Our courses are taught by leading experts in the field.
Therapy Insights is an ASHA and AOTA Approved CE Provider. We approve our PT courses with the Texas Physical Therapy Association, which offers reciprocity with most state licensing boards.
Get a chance to directly interact with fellow colleagues and expert clinicians via Zoom during the live courses.
Courses are also available as recorded editions.
We develop 4 new live courses per month.
---
---
What is the cancelation policy?
Any subscription can be canceled at any time for any reason.
Subscriptions must be canceled before the recurring charge (monthly for Basic package and every year for Premier package).
If you cancel before your card is charged again, this will result in immediate loss of access to the article snapshots library and loss of ability to sign up for CEUs at no additional cost.
What is the refund policy?
We do not provide refunds on subscription products. Starting with a monthly subscription is a great way to see if this product is a good fit for you, and you can cancel your monthly subscription any time.

How many downloads do I get per month with each subscription?
With the monthly Access Pass (Basic), you will automatically receive 5 PDF download credits to your account each time your subscription automatically renews With the annual Access Pass (Premier), you will immediately receive 90 PDF download credits to your account.

Do the download credits roll-over?
Yes, any un-used downloads will remain in your account month to month as long as you are subscribed.

If I cancel, do I lose my download credits?
Yes.

How long do I have access to the PDFs?
Once you download a digital file with your credits, it is yours to save, print, and use for the lifetime of your clinical practice. We recommend backing up your files in a safe space.

Can I choose any digital download from the library, or am I limited to discipline-specific collections?
All Access Pass subscribers can choose any content from the library, regardless of related discipline. This is because we believe that there is so much interdisciplinary cross-over that it would be extremely difficult to categorize every piece into one specific discipline.

What if I can't attend the live webinar? Can I still access it for free as a subscriber?
Yes. Access Pass subscribers can register for the recorded webinar.

I would like to be an Access Pass subscriber, but also want to receive the book that pairs with all of the pediatric SLP literacy materials each month. Can I still get the book delivered?
Yes, you can use $20 of your Access Pass credits to order the book + a printed copy of the accompanying literacy materials.
---

Also consider: Therapy Fix
Don't have easy access to a color printer? Prefer to get beautiful prints delivered to you in your mailbox?
Therapy Fix ships monthly with beautiful full-color copies of all of the latest resources added to the Therapy Insights library. Receive a full color copy in the mail with extra bonuses like 11x17 posters, clinical anatomy cards, and stickers. You also receive a code to download all of the digital PDFs, which are yours to save and use for the lifetime of your clinical practice.
---
Therapy Fix
Full color hard copies of 5 new resources each month
2 printed Article Snapshots (one page summaries of recently published research)
11x17 color poster
Extra bonuses like laminated 5x7 clinical anatomy cards, stickers, and more
Download code to access all of the PDFs that you can save and use for the lifetime of your clinical practice
Curated pre-selected set of new content
Nothing currently in the library will be included in a future Therapy Fix
Access Pass
Your account is credited with 5 digital download credits each month
Use the credits to download digital resources that you can save and use for the lifetime of your clinical practice
Choose from any content in the entire Therapy Insights library (regardless of discipline)
Access to one new live/recorded course each month
Access to the entire library of Article Snapshots (one page summaries of recently published research)