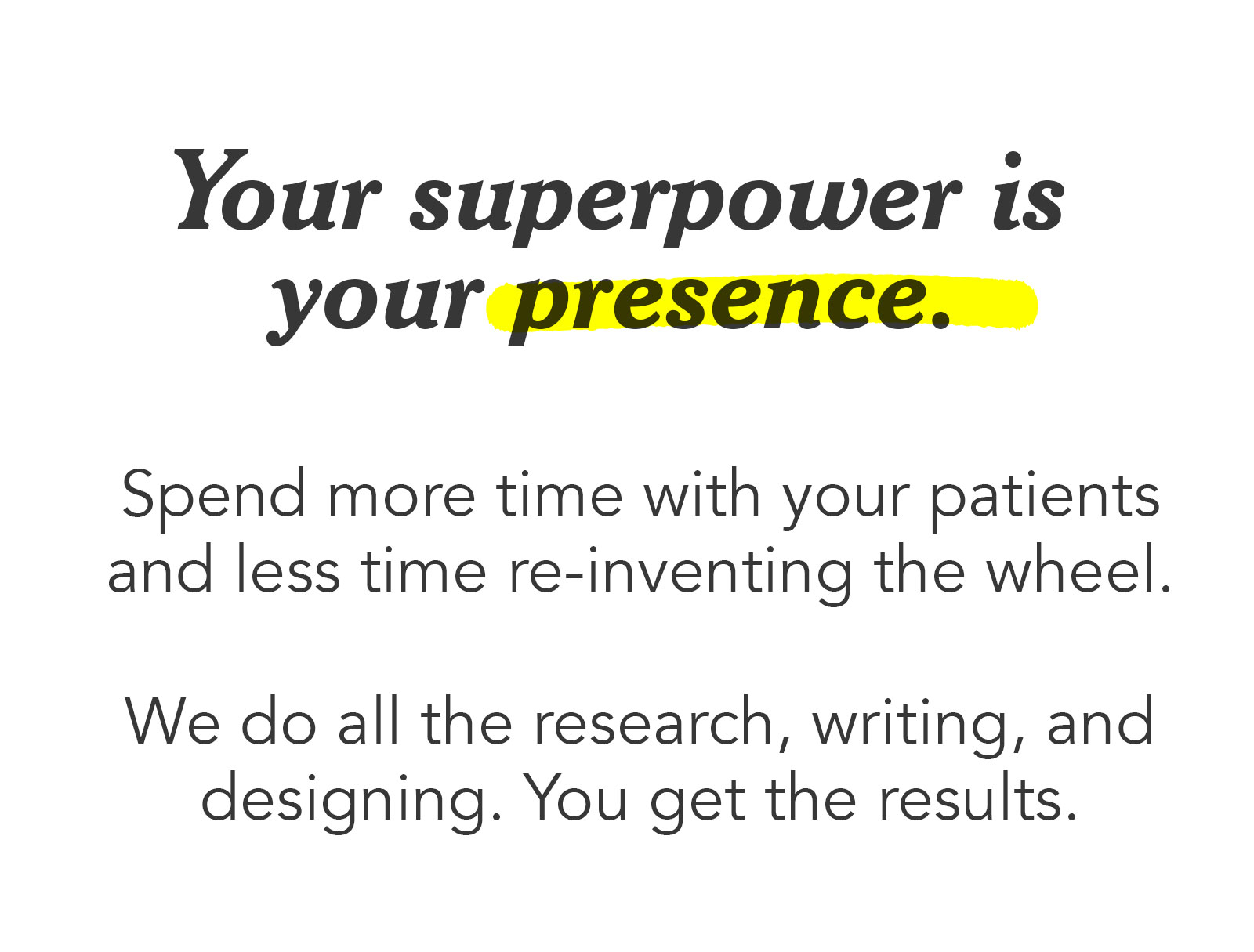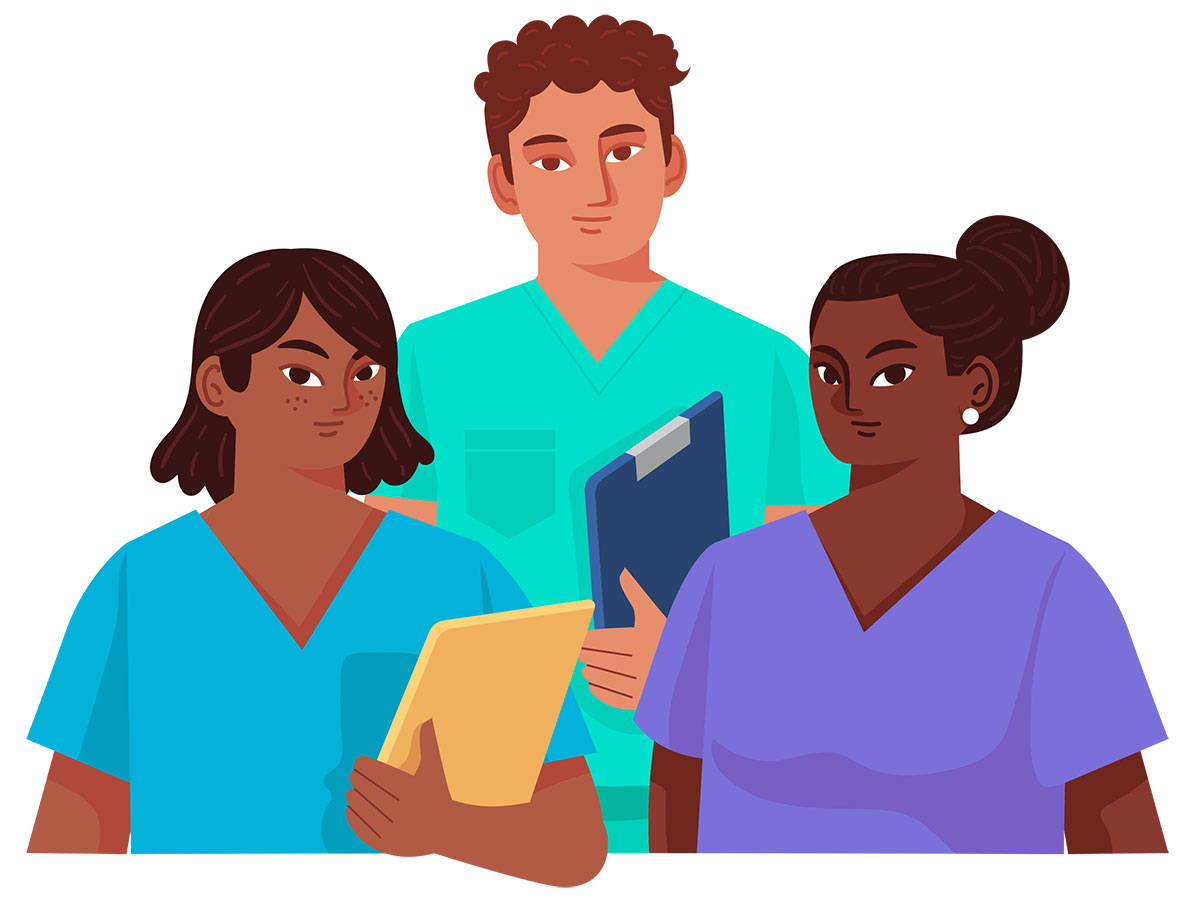 The Access Pass serves SLPs, OTs, COTAs, PTs, and PTAs who work with adults and SLPs who work with children.
Empower patients with knowledge.
People will remember less than 20% of what you say, but they will remember over 80% of what you show.*
Improve insight, carry-over, and results with patient education handouts that help patients and their family members make choices aligned with their values and goals.
Our Clinical Resource Library is packed with over 1200 PDF downloads, including patient education handouts, therapy materials, and clinical tools (such as quick eval tools and reference charts).
We add new resources every month and you get to vote for what we create next.
There is such a variety of information and resources that I can find in what I'm looking for regarding different diagnoses, symptoms, and etc. and apply it to skilled interventions on a daily basis.
- An Access Pass member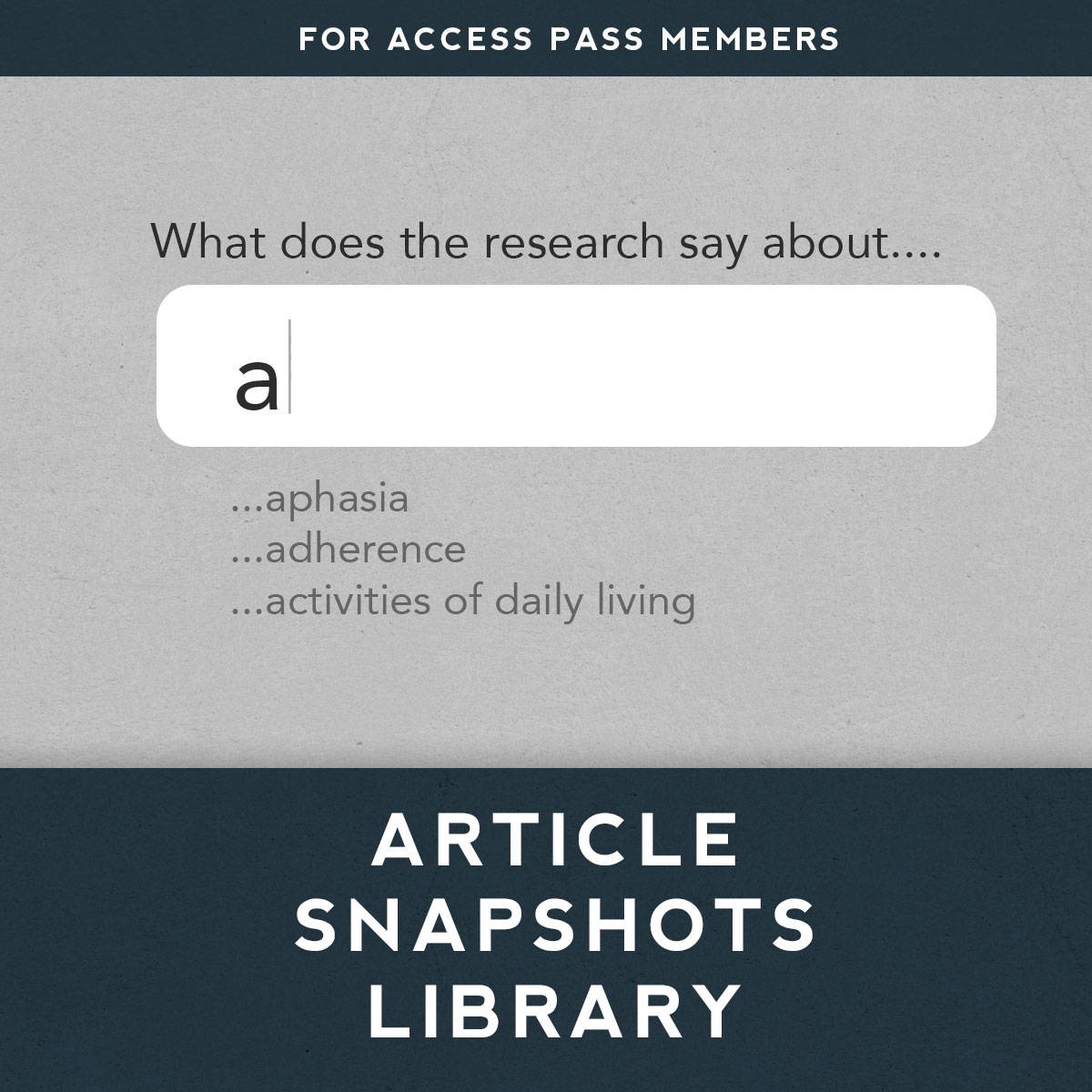 Stay connected to the research.
Do you have a few thousand dollars lying around to pay to access research articles? Unfortunately, that's what it would currently take to access new research. We understand how challenging it is to read peer-reviewed research once you leave academic settings.
That's why we summarize the research for you. Our Article Snapshots library contains hundreds of summaries of recently published research.
Each summary is one page and includes bulleted clinical takeaways so you can quickly and easily integrate the latest research into your evidence-based practice.
I can always find time to read a summary of important research, but not a full journal article. These snapshots help me stay up-to-date on best practices.
- An Access Pass member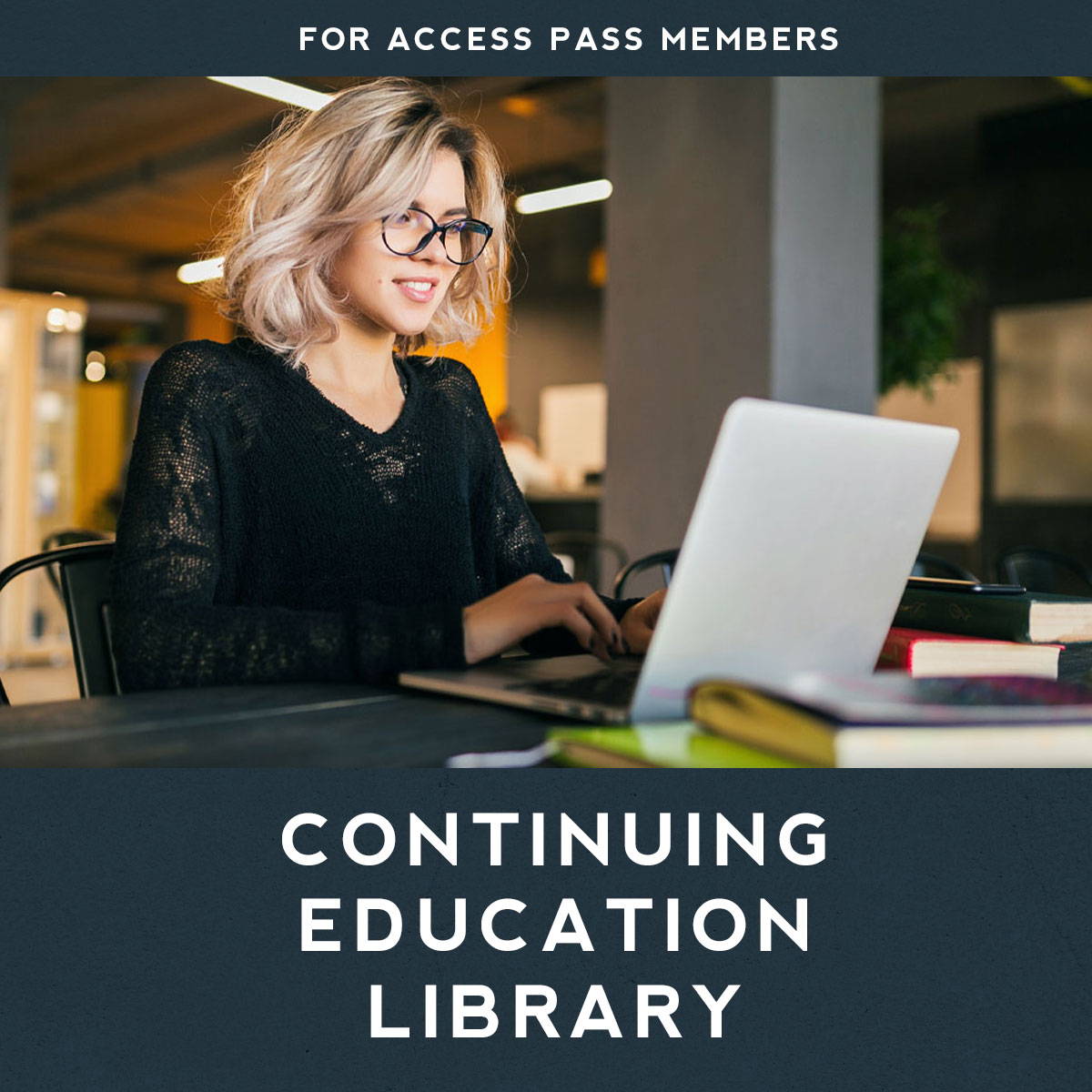 Learn from leading experts.
Learn from the experts and easily meet your CE requirements for your licensing board each year. Join us for monthly live courses and enjoy on-demand access to the entire library of online courses.


All PT courses are approved by the California Board of Physical Therapy.
The courses are easy to access and provide a variety of topics that are relevant to modern practice. They have offered topics that I didn't originally consider, for which I am grateful. It has helped me maintain a well-rounded knowledge base I order to best serve my patients.
- An Access Pass member
---
Elevate your clinical practice today
We provide instant access to an ever-growing library of patient-centered, evidence-based resources so you can spend more time with your patients providing quality patient care and less time scrambling to re-invent the wheel. We have two subscriptions for you to choose from. Therapy Fix and the Access Pass bring you fresh content every month, each in their own unique way. Browse through the two subscriptions below, and if you can't decide between the two, we say treat yo'self and get both.

---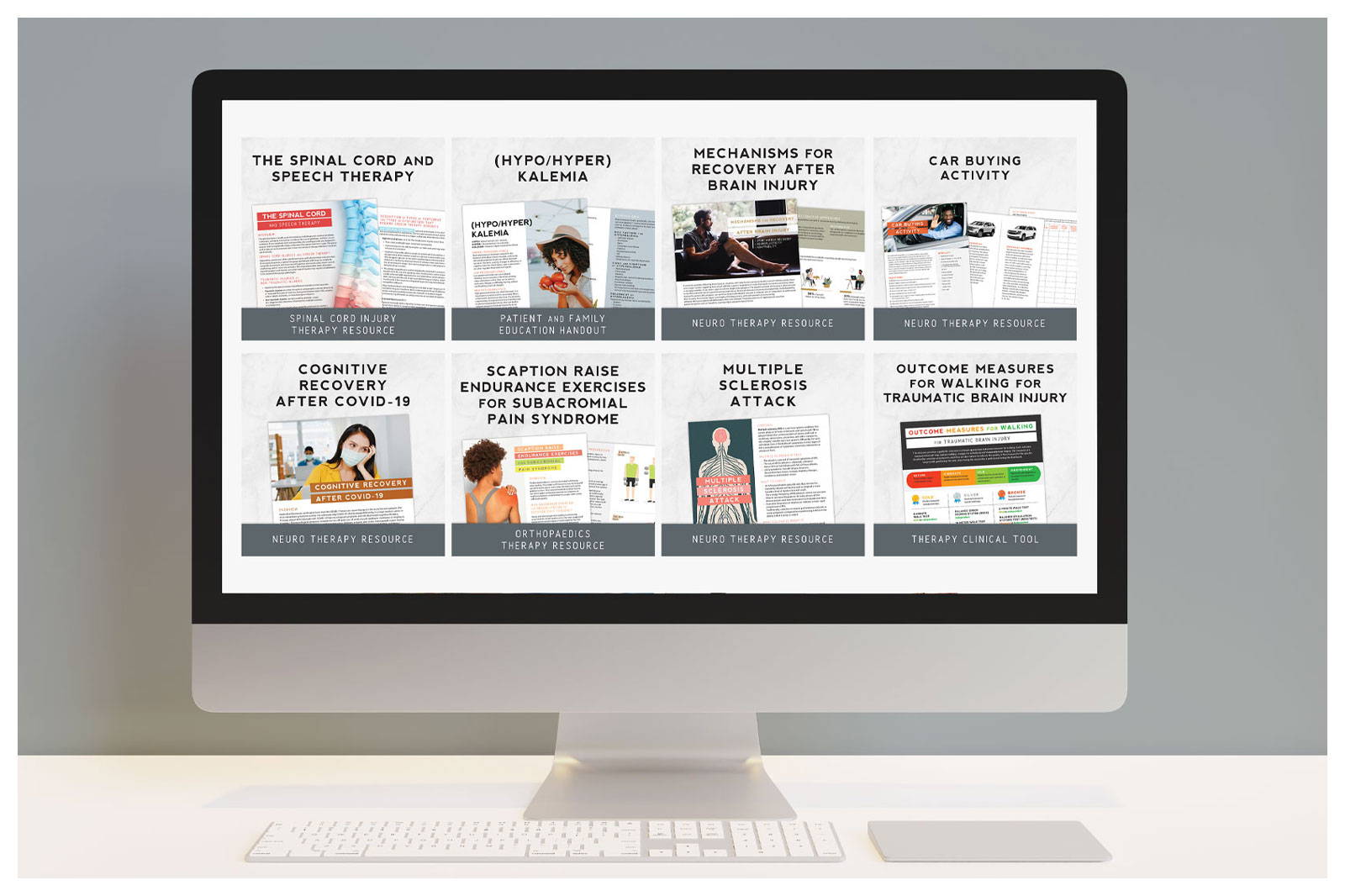 Instant access to the entire Clinical Resource Library with monthly credits you can use to download PDFs or order printed copies. Also includes unlimited access to the Continuing Education Library and full access to the Article Snapshots Library.
---
Gorgeous, full-color, hard copies of new releases delivered to your door each month along with a code to download the PDFs so you can save and print for the lifetime of your clinical practice. Ships with a poster, laminated clinical reference card, and sticker!

---
Frequently asked questions
Do you offer a free trial?
Rather than designing our community to be hidden behind a curtain, we work to be as fully transparent as possible about what's included with our subscriptions. You can view our entire Clinical Resource Library, Continuing Education Library, and read samples of the summaries in our Article Snapshots Library. For that reason, we do not offer a free trial because there is no hidden content. Our goal is to make it as easy as possible for you to determine if this is a good fit for you before you join and that there are no hidden surprises. Browse away and ask any questions you have that will help determine if this is the right tool for you and your clinical practice.
What is the cancellation policy?
You can cancel anytime before your next charge date. As soon as you cancel the Access Pass, you will lose access to the Clinical Resource Library, the Continuing Education Library, and the Article Snapshots Library. When you cancel Therapy Fix, you lose the ability to use your codes for downloads.
Do my credits expire? Do they rollover?
Credits never expire. Credits roll over month to month. You do not lose your credits when you cancel, but you do lose your ability to use the credits.
Can I share these resources?
You can share these resources for educational purposes with your patients and their family. You can share these resources with non-therapy staff for educational purposes. Sharing these resources with other clinicians violates our terms of use and is not ok.
Can I sign up outside of the U.S.?
Yes! We recommend signing up for the Access Pass because everything is all digital.
What is the refund policy?
We do not provide refunds for digital content unless there are extenuating circumstances (such as an accidental duplicate download). We provide preview images of all resources before download so that you know what you are getting before you download.
Can I choose any PDF from the library, or am I limited to discipline-specific collections?
You can select resources from the entire library. We do not limit you to a specific discipline. We believe there is a significant overlap in what we do across all three disciplines. We also work to serve clinicians who specialize in both adult and pediatric populations