Course
Presented by Kathryn Moulison, PT, DPT, OCS, TPS
Access Pass
Member Exclusive
Course Description
The aim of this presentation is to improve the understanding of physiological and neuroscience mechanisms behind both stress and pain as well as the ways in which they interact, and outline strategies we can use to empower our clients and improve their quality of life and function. As therapists, it is important that we have […]
Meet Your Presenter
Kathryn Moulison is passionate about meeting her clients where they are to identify individualized strategies to find freedom from pain. Since started practicing as a physical therapist ten years ago, she has been committed to furthering her education, focusing on orthopedics and pain neuroscience. She obtained her Orthopedic Clinical Specialist certification in 2018 and Therapeutic Pain Specialist certification in 2020. Additionally, she has been teaching yoga since 2012 and incorporates aspects of the practice into her work as a therapist especially in those suffering from persistent pain. She is passionate about education for herself, her clients, and for other providers. She has presented locally and regionally on assessment and treatment of the foot and ankle, pain neuroscience education, and the link between stress and pain.
Accreditation
This course has been Approved by CERS, an Approval Agency for the California Board of Physical Therapy. CERS Course Approval #: 21-50652-1.
Therapy Insights is an AOTA Approved Provider of professional development. Course approval ID# 02421.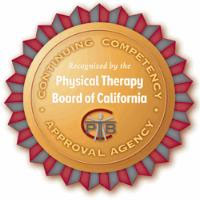 Course Details
Learning Objectives
Upon completion of this course, participants will be able to:
Describe the physiological changes that occur with chronic mental/emotional stress and with persistent pain.
Explain, in client friendly language, the impact that stress and pain have on each other.
Identify clients that will benefit from incorporation of therapeutic neuroscience education (TNE) in their plan of care.
Identify implementation of evidence based treatment strategies to complement TNE in the management of persistent stress and pain.
Describe how these strategies complement TNE in the management of persistent stress and pain.
Time-ordered Agenda
0:00 - Introduction
0:10 - Physiological changes that occur with stress
0:20 - Physiological changes that occur with pain
0:35 - How stress and pain impact each other
0:55 - Overview of EBP treatment strategies including TNE
1:00 - End course + quiz
Instructional Level
Introductory
Information is geared to practitioners with little or no knowledge of the subject matter. Focus is on providing general introductory information.
Target Audience
PTs, PTAs, OTs and OTAs who work with adults in outpatient, home health or inpatient rehabilitation setting.
Live Course Information
This course will be presented on the Zoom platform. High-speed internet connection is required.
Recorded Course Information
The course will be available for CEUs until May 19, 2026.
Instructor Financial Disclosures
Presenter is being paid by Therapy Insights to prepare and present this course.
Instructor Non-financial Disclosures
Certificates of Completion
Once the exam is completed and you have provided feedback about the course, you will receive an emailed certificate of completion with course title, course instructor name/title, learning objectives, your name, your license number (if desired), and a confirmation from the CE Task Force director confirming completion of course. If your state licensing board requires specific records of course participation (all licensing boards are different), please email us and we will provide the documentation.
Instructional Methodology
Lecture
Refunds & Cancellation
Please see our full refund and cancellation policies here.