Course
Presented by Anne Gould-Ruete, PT, DPT, NCS
Access Pass
Member Exclusive
Course Description
In this course, we will discuss how physical therapy has the potential to promote neuroplasticity and help with neuro-protection in people with Parkinson's Disease (PD). We will discuss the benefits of exercise in the management of both non-motor and motor symptoms of PD and what the current recommendations are for long term maintenance exercises for […]
Meet Your Presenter
Anne is a physical therapist with 15 years of experience and earned her NCS 10 years ago. She has worked with patients with neurological conditions throughout her career in a variety of settings, including inpatient acute rehabilitation, home care, outpatient and long term care. This variety of experiences has given Anne a view of how people with neurological conditions move across settings in physical therapy. She has been specializing in working with people with Parkinson's disease for the past 6 years and has obtained certifications in LSVT BIG, and as a PWR!Moves Therapist and Instructor. She enjoys reading and exercising in her spare time with her husband and 2 kids.
Accreditation
This course has been Approved by CERS, an Approval Agency for the California Board of Physical Therapy. CERS Course Approval #: 21-50676-1.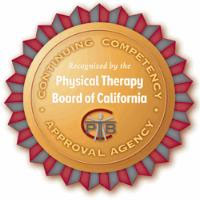 Course Details
Learning Objectives
Upon completion of this course, participants will be able to:
Describe nature-based pedagogy and benefits of time in nature.
Define key terms used in nature-based pedagogy and how they relate to traditional language therapy.
Identify ways to apply traditional speech-language therapy using nature-based intervention strategies.
List ways to support families in facilitating language within outdoor contexts.
Time-ordered Agenda
0:00 - Overview of PD, motor and non-motor symptoms
0:10 - Benefits of exercise for motor and non-motor symptoms of PD
0:20 - Neuroplasticity and Neuro-protective effects of exercise for people with PD
0:35 - Current recommendations for maintenance exercise programs and current models of maintenance programs designed for people with PD
0:50 - Q/A
1:00 - End course + quiz
Instructional Level
Introductory
Information is geared to practitioners with little or no knowledge of the subject matter. Focus is on providing general introductory information.
Target Audience
Rehabilitation clinicians, including physical therapists and occupational therapists who work with adults in rehabilitation settings.
Live Course Information
This course will be presented on the Zoom platform. High-speed internet connection is required.
Recorded Course Information
The course will be available for CEUs approved by the CA Physical Therapy Board until July 21, 2022.
Instructor Financial Disclosures
Presenter is being paid by Therapy Insights to prepare and present this course.
Presenter is a salaried faculty member at Franklin Pierce University, Northeast Rehabilitation Hospital and Supplemental Healthcare.
Instructor Non-financial Disclosures
Certificates of Completion
Once the exam is completed and you have provided feedback about the course, you will receive an emailed certificate of completion with course title, course instructor name/title, learning objectives, your name, your license number (if desired), and a confirmation from the CE Task Force director confirming completion of course. If your state licensing board requires specific records of course participation (all licensing boards are different), please email us and we will provide the documentation.
Instructional Methodology
Lecture
Refunds & Cancellation
Please see our full refund and cancellation policies here.