Course
Presented by Oak Reed, Ph.D.
Access Pass
Member Exclusive
Course Description
Clinicians and patients equally struggle with stress and anxiety (among other mental health symptoms) that can impact energy, motivation, and, ultimately, therapeutic outcomes. There are several brief behavioral health interventions that actively target physiological and psychological symptoms of stress and anxiety that are simple, effective, straightforward to use, and easy to teach.
Adult
OT
PT
SLP
Mental Health
Meet Your Presenter
Dr. Oak Reed earned his BS in psychology and sociology from Central Michigan University, his PhD in clinical psychology from the University of Montana, and is currently a behavioral medicine postdoctoral fellow at the University of Virginia. Over the years, he has worked across diverse clinical settings, including outpatient mental health and university-based primary care clinics, community and university-based medical centers, and a variety of outpatient and inpatient clinics within Veterans Health Administration. Oak has specialty training in healthy psychology with a particular focus on brief behavioral health interventions.
Accreditation
This program is offered for .1 ASHA CEUs, (Introductory Level; Professional Area).
This course has been Approved by CERS, an Approval Agency for the California Board of Physical Therapy. CERS Course Approval #: 22-50835-1.
Therapy Insights is an AOTA Approved Provider of professional development. Course approval ID #04094. This webinar is offered at 1 CEU.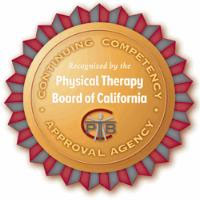 Course Details
Learning Objectives
Upon completion of this course, participants will be able to:
Describe physiological and psychological symptoms of stress and anxiety.
Identify outcomes of poorly managed stress and anxiety for clinicians and patients.
Recognize behavioral strategies for managing stress and anxiety.
Explain how these strategies typically reduce physical and psychological symptoms of stress and anxiety.
Develop language to teach behavioral strategies to patients.
Time-ordered Agenda
0:00 - Introduction of presenter and training background
0:01 - Course introduction and objectives
0:02 - Discuss physiological and psychological symptoms of stress and anxiety
0:10 - Examples of how stress and anxiety present in patients in outpatient and inpatient settings
0:13 - Examples of how stress and anxiety present in clinicians
0:16 - Introduce and describe diaphragmatic breathing
0:24 - Introduce and describe progressive muscle relaxation
0:32 - Introduce and describe mental imagery
0:40 - Introduce and describe 5-senses orientation
0:48 - Recommend language regarding teaching behavioral strategies to patients
0:50 - Q/A
1:00 - End course + quiz
Instructional Level
Introductory
Information is geared to practitioners with little or no knowledge of the subject matter. Focus is on providing general introductory information.
Target Audience
Physical therapists, occupational therapists, and speech-language pathologists therapists who work with adults.
Live Course Information
This course will be presented on the Zoom platform. High-speed internet connection is required.
Recorded Course Information
This course will be available for ASHA and AOTA CEUs until February 26, 2027. This course will be available for PT CEUs until February 26, 2023.
Instructor Financial Disclosures
Presenter is being paid by Therapy Insights to prepare and present this course.
Presenter receives a salary from the University of Virginia.
Instructor Non-financial Disclosures
Presenter will share with the listeners some of his personal experiences with using these techniques as a health care professional but also an individual. Although there are a number of behavioral interventions for stress and anxiety, he has chosen the four for this course based on the literature but also my personal interest/benefit in the skills.
Certificates of Completion
Once the exam is completed and you have provided feedback about the course, you will receive an emailed certificate of completion with course title, course instructor name/title, learning objectives, your name, your license number (if desired), and a confirmation from the CE Task Force director confirming completion of course. If your state licensing board requires specific records of course participation (all licensing boards are different), please email us and we will provide the documentation.
Instructional Methodology
Lecture
Refunds & Cancellation
Please see our full refund and cancellation policies here.