Course
Presented by Ulysses Juntilla, PT, DPT, OCS, FAAOMPT
Access Pass
Member Exclusive
Course Description
Rehabilitation providers have begun to incorporate pain education into their treatment protocols to influence the patient's experience, belief, and knowledge to improve their condition and it has shown to be an effective treatment option for the management of chronic pain. The purpose of this course is to familiarize approaches in managing chronic pain.
Meet Your Presenter
Dr. Juntilla is a Diplomate with American Board of Physical Therapy Specialties in Orthopedic PT (OCS), a Fellow of the American Academy of Orthopedic Manual Physical Therapists (AAOMPT) and an Osteopractic Physical Therapist. In addition, he is an Advanced Credentialed Clinical instructor through APTA. UL presented numerous presentations nationally and internationally in the field of Orthopedic Manual PT. Prior to working at the VHA, he was a member of the faculty at Asian Institute of Medical Sciences, Asian College of Technology in which he taught Gross Anatomy and Physiology.
Accreditation
This program is offered for .1 ASHA CEUs, (Advanced Level; Professional Area).
Therapy Insights is an AOTA Approved Provider of professional development. Course approval ID 02968. This webinar is offered at 1 CEU.
This course has been Approved by CERS, an Approval Agency for the California Board of Physical Therapy. CERS Course Approval #: 21-50692-1.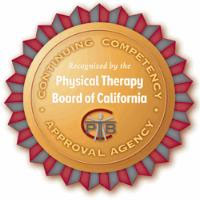 Course Details
Learning Objectives
Upon completion of this course, participants will be able to:
Discriminate common outcome measures used in measuring fear avoidance, kinesiophobia and catastrophization.
Recognize factors of persistent pain including peripheral and central sensitizations.
Appraise the different CBT techniques utilized among rehabilitation practitioners.
Summarize the premise of self care management in chronic pain.
Time-ordered Agenda
0:00 - Definition of pain, epidemiology
0:10 - Acute versus chronic pain
0:20 - Sensitizations (peripheral and central)
0:30 - Outcome measures
0:40 - Barriers, facilitators in chronic pain management
0:50 - Cognitive behavioral approaches
1:00 - End course + quiz
Instructional Level
Advanced
Information is geared to practitioners with a comprehensive understanding of the subject matter based on current theories and standards of practice as well as current literature and research. Focus is on recent advances and trends, and or research.
Target Audience
PTs, PTAs, OTs, OTAs and SLPs who work with adults in rehabilitation settings.
Live Course Information
This course will be presented on the Zoom platform. High-speed internet connection is required.
Recorded Course Information
The course will be available for CEUs until October 12, 2026.
Instructor Financial Disclosures
Presenter is being paid by Therapy Insights to prepare and present this course.
Presenter is a salaried faculty member at the Department of Veterans Affairs health system in Columbia, South Carolina.
Instructor Non-financial Disclosures
Certificates of Completion
Once the exam is completed and you have provided feedback about the course, you will receive an emailed certificate of completion with course title, course instructor name/title, learning objectives, your name, your license number (if desired), and a confirmation from the CE Task Force director confirming completion of course. If your state licensing board requires specific records of course participation (all licensing boards are different), please email us and we will provide the documentation.
Instructional Methodology
Lecture
Refunds & Cancellation
Please see our full refund and cancellation policies here.